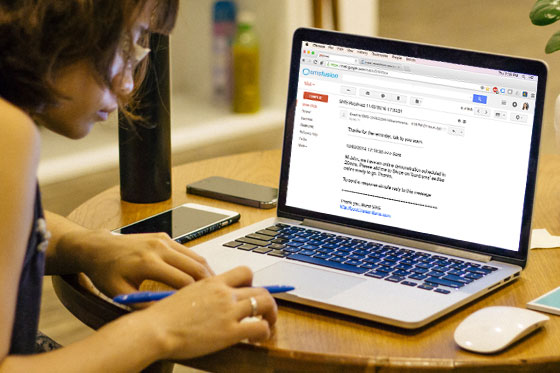 Email to SMS
Send and receive SMS through email
We believe that text messaging and email are complementary services, which can work together to make each other more efficient. This is especially true for businesses which have to deal with frequent conversational threads and client enquiries.
Using email to SMS is easy, you won't need to learn how to use another email provider either. To make your workflow more efficient, you can continue to use the email provider of your choice. Most clients prefer having all SMS replies forwarded directly to their main business email.
Sending an SMS using our email to SMS service is designed to feel natural. When composing an email, all you need to do is make a couple of small adjustments. Start off by placing the phone number that you want to reach followed by @sms.smsfusion.com.au inside the "To" section of your new email. For example if the number is 123456, then you would place 123456@sms.smsfusion.com.au.
The second step would be to decide whether or not you want to override the caller ID. To keep your original caller ID, leave the subject line blank. Now type in your email as usual, and once you press send, your client will receive an SMS version of the email. When your client replies back, a conversation thread will start to build in your email inbox. This makes it easy for you to search for past conversations.